---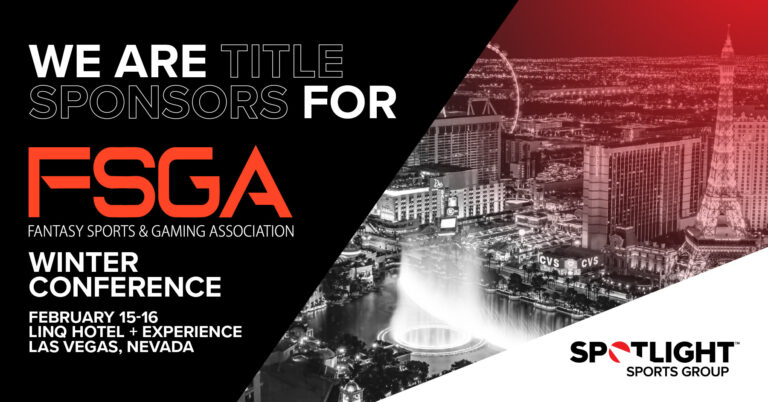 NEW YORK & LONDON – Jan. 21, 2022 – Spotlight Sports Group, a world-leading technology, content and media company specializing in sports betting and fantasy sports, announced the company will be the title sponsor of the upcoming Fantasy Sports & Gaming Association (FSGA) Winter Conference at the LINQ Hotel in Las Vegas on Feb. 15-16.
The FSGA Winter Conference brings together fantasy sports, sports betting and gaming executives from across the world to network and discuss major trends in the marketplace, new technologies and emerging legislation and regulation impacting the entire sports gaming industry. In addition to breakout panels and keynotes, the conference features an awards ceremony and an innovation pitch competition.
Spotlight Sports Group's SVP of Business Development, Rick Wolf is a founding member of the FSGA and will co-host the event. As the title sponsor of the event, Wolf will also provide the opening remarks to start the conference focused on the massive expansion of sports betting and gaming set to take place for 2022.
"With the emerging legalization of sports betting across America, specifically in states with large populations like California and Texas, companies have a limited time to take advantage of the gold rush. In 2022 alone, we're predicting the number of American sports bettors with legal access to sports betting could double, from less than 40% to close to 75%," said Wolf. "This year's conference will explore all the ways businesses can innovate and create sustainable revenue streams before it's too late to scale efficiently."
In addition to the title sponsorship, the company will co-sponsor a free-to-play game for all attendees alongside the FSGA. Spotlight developed the free-to-play game through its self-service game engine. The game concept provides the FSGA audience a proof of concept of how companies can quickly bring to market a coveted user engagement tool like free-to-play games. The prop-style free-to-play game will be available to all attendees and will feature a prize of an autographed NFL jersey.
"For more than 20 years, the FSGA has been at the forefront of progress for the fantasy, sports betting and gaming industries," said Harry von Behr, Spotlight's managing director of sport and co-US CEO. "Spotlight is one of the only companies to provide a full-service technology and content offering across the entire fantasy sports, sports betting and gaming industries. The sponsorship is a natural extension of our capabilities, providing value and insights to all those in attendance."For more information regarding the conference and other attendees here: https://thefsga.org/fsga-winter-conference/