June 27 & 28, 2019
The Crowne Plaza Hotel Times Square
New York City
This was our debut event as the Fantasy Sports & Gaming Association!
While 2018 marked the year the nation awoke to the possibilities of legalized sports betting, 2019 marks the year where execution will allow first-movers to showcase their foresight. Early returns in newly legalized states like New Jersey and Pennsylvania have shown immense promise, and we analyzed how companies are shifting, sharing & expanding their resources to tackle the new possibilities. While regional brands in the Northeast can focus on legalized sports betting, many national brands need to take a different approach as legalized sports betting will not proliferate across the country overnight. Brands like NBC Sports, theScore and Buffalo Wild Wings are each taking unique approaches, and we will discuss the applicability of free-to-play games compared with their real-money counterparts. Many insiders describe the United States as 50 different countries when it comes to the topic of sports betting, and a different approach is required each jurisdiction. Nonetheless, the possibilities are as exciting as ever!
Goals of the Meeting
To review industry growth over the last four years.
To understand how the landscape has changed and anticipate what the future will look like.
To examine how different brands should approach the fantasy sports and legalized sports betting market.
To discuss the benefits of partnering with companies in the greater legalized sports betting ecosystem.
To provide mentorship to new entrepreneurs and business owners interested in a career in fantasy sports and/or legalized sports betting business.
To ensure that research findings are disseminated to various stakeholder groups, including leagues, fantasy sports and legalized sports betting business owners and staff, media outlets, social media, and industry partners.
Reasons to Attend
To network with contest operators, content providers, data & analytics firms, fantasy sports and sports betting small business owners, senior staff and investors, professional sports leagues, industry partners, and your peers.
To become educated from notable names and authoritative voices on the latest knowledge and cutting-edge topics in the new world for fan engagement.
To get career advice from established business owners and executives on how to launch a career as a fantasy sports and/or sports betting entrepreneur.
To support your professional development and continued learning in this constantly evolving industry.
Panels and Speakers
How does a brand's sports gaming strategy change if they have a local, regional or national focus?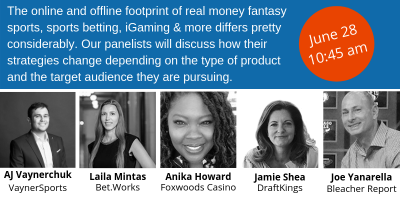 For companies who are covering both fantasy sports & sports betting, how are they spreading resources across their orgs?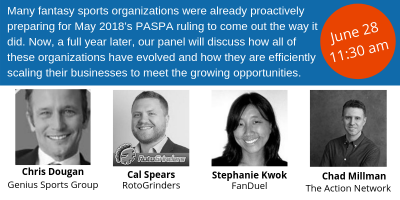 What are the benefits of running free-to-play (FTP) compared with real-money games (RMG)? How can you build a business model around each?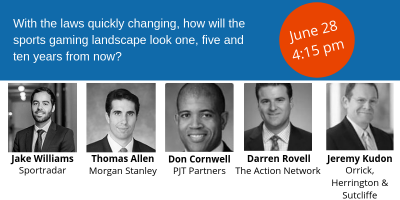 With the laws quickly changing, how will the sports gaming landscape look one, five and ten years from now?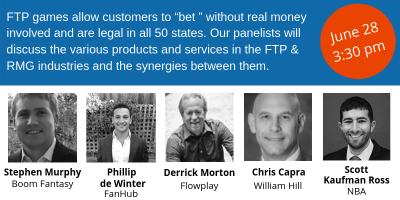 Who attended?
290 Design, LLC | ArbourPro Inc. | Arent Fox | Armchair Quarterback | Awesomeo.com LLC | Bang Bang Sports | Beat The Bookie | BetConstruct | Bet.Works | BettingUS.com | Bleacher Report | Boom Fantasy | Buffalo Wild Wings | CBS Sports Digital | Chalkline Sports | Champions Round | Courtside Ventures | DFS Army Inc. | DFS Karma | Dotball Interactive Pvt Ltd | DraftKings | DreamCo Design | Dynasty Owner | Edison Partners | Electronic Verification Systems | ESPN | EV Analytics | FA Media, LLC (FantasyAlarm.com) | FanDuel Group | FanHub Media USA LLC | FanShare Sports | Fantasy Cruncher Inc. | Fantasy Football Players Championship (FFPC) | Fantasy Football Unlimited | Fantasy Golf's OG, The Original GolfGame | Fantasy Sports Shark, LLC | FantasyPros | Fantasy Stand | Fantrax | FANview Sports  | Field Level Media, Inc. | Fleaflicker LLC | FlowPlay, Inc. | Footballguys.com | Four Wood Capital Partners | Foxwoods Resort Casino | Front Yard Fantasy | Funatix Club | Gambling.com Group | Genius Sports Media | Global Gaming Business Magazine | Global Payments | Gracenote Sports | Guru Elite | Hot Paper Lantern | Icon Sportswire | Inside Edge | Inside Injuries, Inc. | IPSOS | Jockalytics | Law360 | LeagueSafe | Majors Challenge | Matt Engles Media | MATTERbox | Meteor Affinity, Inc. | Milestone Entertainment | MoneyBall DFS, LLC | Morgan Stanley | MyFantasyLeague.com | National Basketball Association | NFL Players Association | NumberBall | Oakland Raiders | OCRP | OneCricket Fantasy Inc. | Open Gaming Solutions Inc. | Orrick, Herrington & Sutcliffe | Ottoneu, Inc. | Performance Predictions | PJT Partners | Premier Global | PrizePicks | The Purpose Alliance | Real Time Fantasy Sports | RosterWatch, Inc. | RotoBaller | RotoGrinders.com | RotoWire.com | RotoWorld.com/NBC Sports | RubinBrown LLP | SCA Promotions | Sherpa Fantasy Sports | SideBoss | Sirius XM Radio | SportsBusiness Journal | Sportradar | SportsDataIO | Sports Info Solutions | Sports Reference LLC | StatHero | STATS | STS Capital Partners | TeamRankings | The Action Network | The Athletic | The Crown League | The Fantasy Footballers | TheHuddle.com / USA TODAY Sports Media Group | TrophySmack | TSEVO, LLC / GambleID, LLC | Turner Sports | VaynerSports | VelaWood | Vinfotech | VSiN | William Hill | Win Daily Inc. | XML Team Solutions | Yahoo Fantasy Sports | ZwillGen PLLC